New Girl In Town is the fourth episode in the first season of LPS: Popular, and the fourth episode overall. It aired on September 10, 2010.
Summary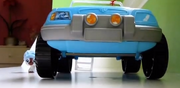 Brooklyn makes it clear that she does not want to be friends with Savannah -- meanwhile, Savannah pays more attention to her clothes and starts to take a liking to a certain off-limits boy
Trivia
This is the first and possibly the last appearance of Scorpius.
​Goofs
Scorpious knew Savannah's full name, even when she was introduced as Savvy.
Ad blocker interference detected!
Wikia is a free-to-use site that makes money from advertising. We have a modified experience for viewers using ad blockers

Wikia is not accessible if you've made further modifications. Remove the custom ad blocker rule(s) and the page will load as expected.