Keep an Eye on Your Boy
is the fifth episode in the
second season
of
LPS: Popular
, and the 22nd episode overall. It aired on June 1, 2013.
Summary
Friend or foe, Brigitte is way too close to Sage for Savannah's liking, and the situation is worsening by the day. After an interesting run-in, Savannah is more suspicious than ever. Is Brigitte an innocent puppy or just a master manipulator? With those big, beautiful eyes, it's impossible to tell. Savannah is leaning towards the latter, and the new note on her locker strengthens her position. It might be time to say goodbye to her seemingly perfect life... because we all know that what goes up must come down. Meanwhile, Brooke's heart of ice is colder than ever, and she's determined to flirt and weasel her way into getting exactly what she wants. She's not afraid to use her claws... or words that are just as sharp, no matter the scars they may leave. They're just words, right? How much damage can they really do? And finally, a word for the wise: beware cute little critters who jump into your schoolbag.
Detailed Plot Summary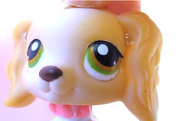 Ad blocker interference detected!
Wikia is a free-to-use site that makes money from advertising. We have a modified experience for viewers using ad blockers

Wikia is not accessible if you've made further modifications. Remove the custom ad blocker rule(s) and the page will load as expected.