Hayes House



Type of Place

House

Occupants

Nickname

N/A

Owner

First Seen

Last Seen

N/A
The Hayes House is where Brooklyn Hayes and her mother, Ms. Hayes, live. Brooke and her mom live happily in this luxurious dream house. There's Brooke's room, the living room (where the Party of the Century was held), and the kitchen. Brooke has had many misadventures at this house and there are two scenes where Brooke is screaming in her house because of a temper tantrum (See Brooke Hayes's info).
Brooke's Room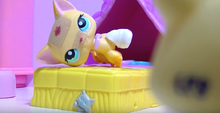 Brooke's Room is a cozy space with plenty of space to put all her accessories and clothing in! Her room includes a pink mirror, a bed with patterned sheets, and a pink mini-bed to store her accessories. For a reason not many know, Brooke has an obsession with pink, which is shown on the photo seen to the right->
Residents
Gallery
Ad blocker interference detected!
Wikia is a free-to-use site that makes money from advertising. We have a modified experience for viewers using ad blockers

Wikia is not accessible if you've made further modifications. Remove the custom ad blocker rule(s) and the page will load as expected.